Ready-to-eat chocolate cake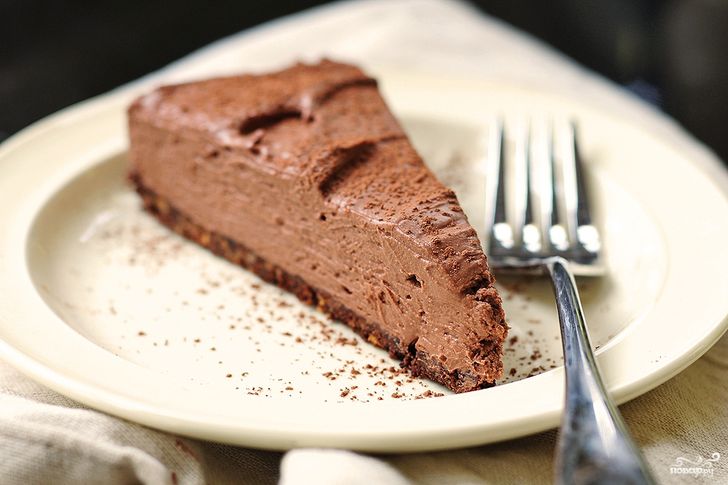 Ingredients:
300 g of cookies
150 g of butter
3-4 tablespoons of cocoa butter
250 g of cream cheese
50-100 g of powdered sugar
200 g of chocolate
100 g of cream
Instructions:
The first step is to prepare the sponge base to the cake. Make the butter melt lightly, then grind the cookies using the aid of blender.
Put the cookie crumbs in baking tins. Use an object to crush them into a firm layer. If you've got an even level of the crumbs put your baking tin in the refrigerator.
It's now time to prepare the filling. Begin by whisking the cream cheese, while periodically making additions of powdered sugar.
Mix the ingredients thoroughly a second time. The main ingredient — chocolate! It's first time to heat it until it's completely melted. Let it cool to a certain degree, and then mix it and the cream cheese.
Mix the cream in a separate bowl until it becomes light and airy.
Add the cream to the mix and stir it using a spoon. Be sure to maintain the consistency of the cream, which is bubbly and frothy.
When the mixture is of homogeneous consistency, take the cake base that has now hardened out of the fridge. The chocolate frosting is evenly spread over the cake base. Place the cake in the fridge for about four hours. Sprinkle with cocoa powder , or decorate with fruits, nuts or even sweets to your preference. This cake is ready for eating!